How to Use the Gutter Sense Gutter cleaning tool
Gutter Sense gutter cleaning tool Instructions
Attach to a pole.
Screw socket firmly onto an extension pole of the proper length to reach your gutters. Do not twist body of the gutter cleaning tool to tighten. We recommend a 12-20' pole, which you can find at a hardware or paint store.
Adjust tong angle.
Use wing nut to adjust angle so paddles run flush along the bottom of the gutter while you stand far enough away from the wall to be clear from falling debris. Wrap the pull-line around your hand so you can pull it while supporting the pole with both hands. Keep pole perpendicular to gutter.
Lower tongs.
Lower tongs partway into gutter and move the tool to the left or right until the outside surface of the tongs bumps into the gutter support. Fully lower tongs into debris and pull the cord to gather.
Release debris.
Lift the tool out of the gutter while maintaining tension on the rope and release debris. Lower gutter tongs again, locate opposite support, and repeat the process as necessary. Collect debris as you go by spreading a plastic sheet on the ground and dragging it with you.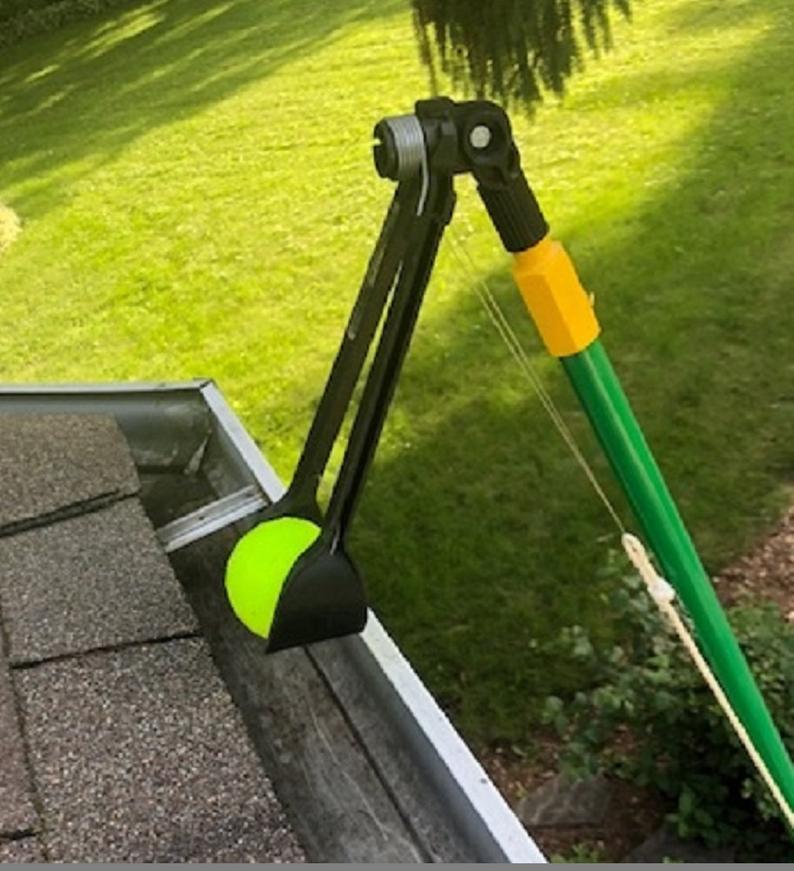 gutter cleaning tool Specifications
Grip Range: Approximately 14″
Paddle Width: 2 1/2″
Monofilament: 100# test, 0.40″, Copolymer
Materials: Socket/Body/Tongs — glass reinforced impact-modified black nylon
gutter cleaning tool Care and Use Warnings
Do not use from a ladder
Use care and do not apply excessive angular force to the gutter tongs
Pull or lift only in line with the tongs
Avoid dropping it or whipping the pole to dislodge trapped debris
Do not twist or yank during use
Refrain from using a single paddle to plow or dig
Avoid using to pick up heavy objects
Wear safety goggles
Store away from small children
Tighten wing nut after adjusting tong angle
Relubricate mono line with plastic-safe synthetic grease as necessary