This year, go beyond standard gifts and tackle one of his dreaded yet necessary chores: gutter cleaning. When you do, you'll be Dad's favorite for years to come.
 When you think of Father's Day gifts, what comes to mind? Aftershave, a new shirt, some new tool for the grill?
 No one loves gutter cleaning, even the most dedicated weekend warriors because it's messy, it's time-consuming—and it's actually dangerous.
DANGERS OF GUTTER CLEANING
 According to the American Academy of Orthopedic Surgeons, over 500,000 people are treated each year in the United States for ladder-related injuries. Overall, 97% of these ladder-related accidents occurred at home. Ladders don't leave a lot of room for accidents. In fact, even those with experience can be startled, lose their balance, or be injured. For example, it's easy for something to go wrong fast if a child or pet runs into the ladder supports.
While the most dangerous part of the job is climbing a ladder, there are other threats. Potential threats include things such as contact with electric wiring, encountering wildlife, and getting scratched or injured from the gutters or the gunk inside them.  
This year, make the job easy for Dad with Gutter Sense. It's a lightweight, easy-to-use rain gutter cleaning tool for cleaning out gutters from the ground. In other words, Gutter Sense makes for a faster, safer way to get house gutter cleaning done. No more ladders, no more climbing, no more mess…one really happy dad. (Best of all, at under $30, Gutter Sense is an affordable gutter cleaning tool he'll use again and again.)
If you want to have him singing your praises, take on the chore for him. Here are some tips for first-time easy gutter cleaning using Gutter Sense.
TIPS FOR EASY GUTTER CLEANING
Cleaning the gutters in a storm is a no-go. Although you're working from the ground, you still run the risk of being struck by lightning. According to the CDC, 85% of lightning fatalities are men, often those working outdoors. Before starting, check the radar or your weather app. Additionally, you'll want to watch the temperature and heat index. Choose the cooler early morning or evening hours to get the job done.
Wear the right clothes for the job.
Traditional gutter cleaning can be a messy job. Gutter Sense definitely eliminates the mess, but you'll still want to wear comfortable clothing that washes easily. In other words, this means no Sunday best or brand-new shirts.
HOW TO CLEAN OUT GUTTERS WITH GUTTER SENSE
Attach Gutter Sense tool to a pole.
Gutter Sense is designed to reach second-story gutters via an extension pole like a broom handle. We recommend a 12- to 20-foot pole with a standard threader (3/4-5). You can find one at a hardware or paint store. Screw the socket of the Gutter Sense gutter cleaning tool firmly onto the pole and you're ready to go. Choose a pole long (or short) enough to comfortably reach your gutters.
Spread a tarp to catch debris.
A plastic sheet or tarp makes it easy to collect leaves, sticks, pine needles, and other debris as you go. Spread it next to you and simply drag it along with you as you clean out gutters section by section.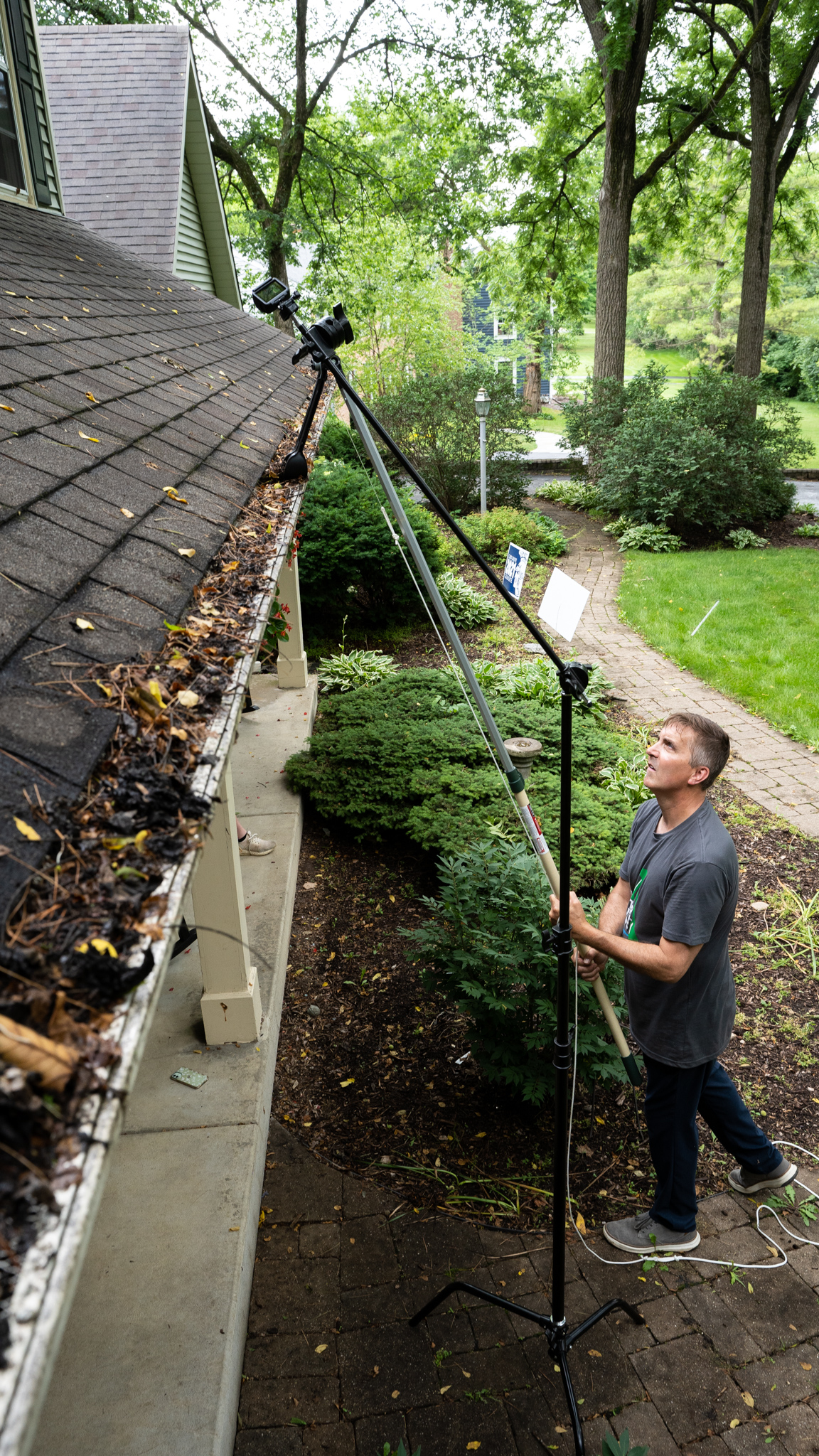 Get familiar with the tongs.
Gutter Sense consists of two tong paddles, a socket, a monofilament paddle line, and a 3/16" pull line. The pull line is what you will use to open and close the tongs. It's easy to operate the gutter tongs. As you get ready to use the tool, you'll use the wing nut to adjust the angle. This helps the paddles run flush along the bottom of the gutter. You'll stand far enough from the wall of the house to be clear of fall debris. Wrap the pull-line around your hand so you can pull it while supporting the pole with both hands.
Keeping the pole perpendicular to the gutter, lower the gutter tongs partway into the gutter. Next, move the tool to the left or right until the tongs bump into the gutter support. Fully lower the tongs into the debris and pull the cord to gather.
Pull out debris—and repeat!
Lift the tool out of the gutter while holding the pull line. Lastly, release the pull line to drop the debris onto your tarp. That's it!
Now, we're savvy enough to know that there will be some of you out there who are going to order Gutter Sense. However, Dad's going to do the job himself. If he's still adamant about doing it himself, at least you'll know you've given him a better, safer way to clean the gutters.
This Father's Day, give Dad a better, safer way to do the job of house gutter cleaning done with Gutter Sense.